Our Next show is on October 14 & 15, 2023 | SATURDAY & SUNDAY | 10am to 5pm each day
October 2023 Show – Create a Cozy & Warm Home & Hearth this Fall at Athens Schoolhouse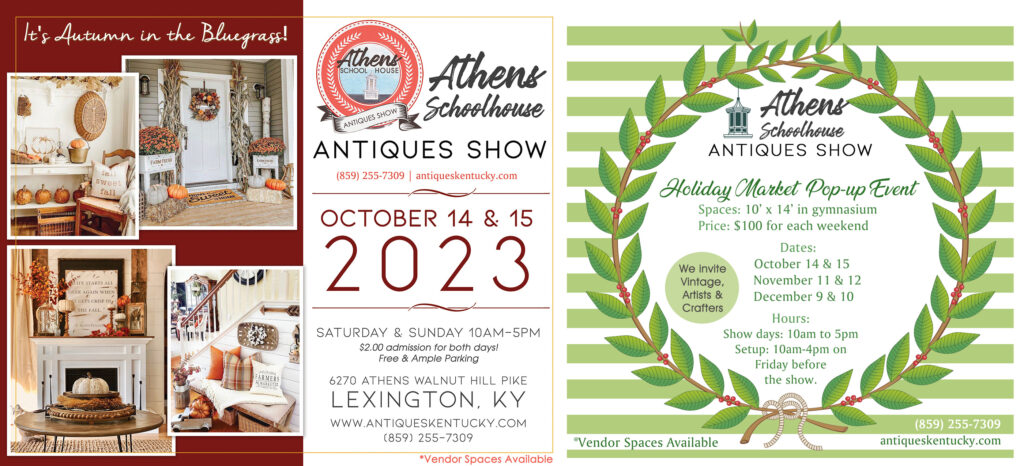 It's officially Fall in the Bluegrass and soon the weather will be dropping with the leaves. With great vintage Halloween & seasonal decor, vintage baking & dining sets, furniture, rugs, and artwork, it's time to celebrate the Autumn season at Athens Antiques!
*HOLIDAY MARKET POP-UP EVENT: See wares from local and regional vintage dealers, artists and crafters for great holiday decor and gifts at our October, November and December shows.
Athens Schoolhouse Antiques Show, offers a large selection of vintage and antique furniture, artwork, pottery, dishes, silverware, rugs, home decor, collectibles, vintage clothing and jewelry, toys and games, and so much more. Our monthly show features a unique collection of curiosities for your Home & Garden.
We have a huge variety of home decor … that are unique, vintage and quality made that are all just a fraction of the cost of retail prices.
Here are the highlights:
Fine selection of antique/vintage glassware, silver, tea sets, goblets, glasses, tea cups, silverware, condiment holders, and more.
Rare indeed, and just arrived! Very rare size. Antique Shaker pantry box and lid with original mustard paint exterior. Condition and construction are fabulous! 3″ tall by 5″ across top.Tiny wooden pegs and great nails. This won't last long! Red and Judy Jenkins.
Showcasing two new arrivals! First, this fabulous antique display case has rose head nails holding the top pieces around the top. Red painted base inside, as well as mustard paint on the inside walls. Champfered back. Solid walnut. Beautifully displayed is this marvelous green blue antique Waco vase. Red and Judy Jenkins.
Whether small or large, beautiful accessories finish the design. Don't forget that finishing touch. Lenabelle Robinson Harkins and Todd Livesay, Lenabelle's Fine Antiques and Interiors.
Primitive decor, furniture, art and kitchen accessories by Red and Judy Jenkins.
Vintage crocks and jugs by Robyn Hall Petteys of Immanuel's Findings.
Classic. Quality. Elegance. Lenabelle Robinson Harkins and Todd Livesay, Lenabelle's Fine Antiques and Interiors.
Delightful Friday Finds with Robyn Hall Petty of Immanuel's Findings.
A glimpse of musical listening equipment through the years. What is life without music? Brian Gorrell.
Wonderful authentic American Primitives. Railroad memorabilia, wrought iron hardware, kitchen and hearth pieces. Enjoy history, ingenuity and craftsmanship. Red and Judy Jenkins.
more to come …