Our Next show is on August 12 & 13, 2023 | SATURDAY & SUNDAY | 10am to 5pm each day
August Show – Beat the heat of Summer at Athens Schoolhouse and Shop Hot Deals!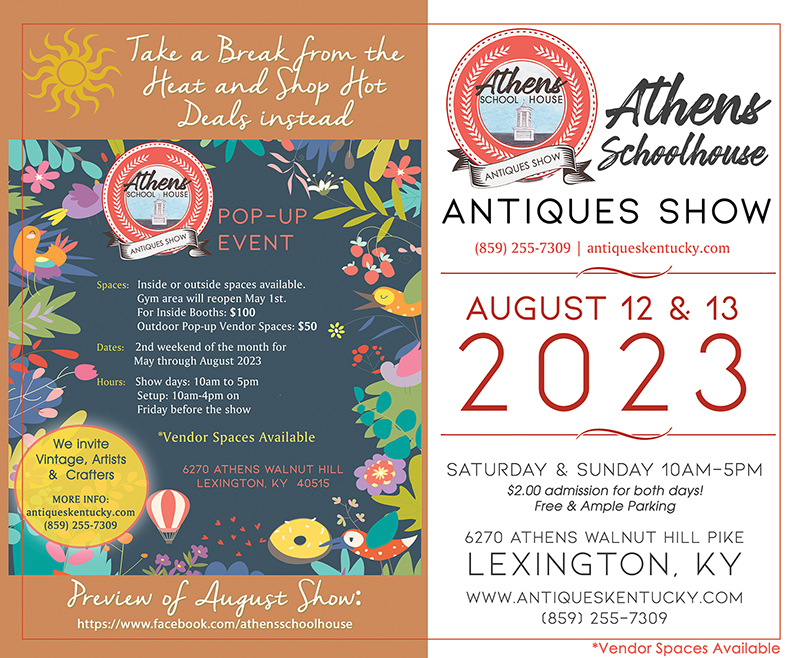 Study and spend the last days of Summer in Style! Add some vintage flair to your dorm rooms or home offices with desks, small tables, seating, lighting, storage and shelving, as well as vintage décor that is unique, quality made and all just a fraction of the cost of retail prices.
Athens Schoolhouse Antiques Show, offers a large selection of vintage and antique furniture, artwork, pottery, dishes, silverware, rugs, home decor, collectibles, vintage clothing and jewelry, toys and games, and so much more. Our monthly show features a unique collection of curiosities for your Home & Garden.
We have a huge variety of home decor … that are unique, vintage and quality made that are all just a fraction of the cost of retail prices.
Here are the highlights:
From equine art to antique onyx topped tables, vintage advertising to Bourbon barrel tables. Bob and Pat Hall
Always unique and lovely. Our August Show is Saturday and Sunday, August 12th and 13th from 10am to 5pm. These selections are with Roger Richter
Some amazing antique selections with Roger Richter. French imports.
Lot of primitives, storage, furniture and utensils.
Clever glasswork creations with The Potted Plate & Garden Art by Jeanie and Chris. Beautiful and affordable.
Lovely art selections with Margie Wade.
Creative reuse, repurposing, upcycle, think outside the box! Lovely and whimsical garden art by Jeanitta & Chris, The Potted Plate &Garden Art. Great gift ideas!
Make it an outing! Donna Dunavent, The Garden Gate.
Great new arrivals with Bob and Pat Hall.
Architectural and antique furniture salvage. Fran Renfro, Shadeland Antiques
Cottage Style, Shabby chic and garden living. Charming. Donna Dunavent, The Garden Gate.
Quality craftsmanship from days gone by. Authentic antique American Primitives. Sustainable, reimagine, reuse, repurpose. Love the patina, details and the stories they could tell. Red and Judy Jenkins.
Casual elegance. Beautiful antique Grondahl china. Comfortable blue on soft white with sea gulls flying. Notice the vintage wine goblets too! Raymon Perkins
Eclectic style. Quality pieces
Great find! Antique oak stationer/office cabinet set on work table. Lovely turned legs. Beautiful antique oak arm chair with lether upholstery and brass tack detail. Late 1800s. Raymon Perkins.